Alumni Spotlight
Featuring Phoebe Atkinson
The Certificate in Positive Psychology (CiPP) is more then a course. The connections formed at CiPP are not meant to end when CiPP ends. They are intended to help students continue to thrive in their journey to wholebeing.
So how can we stay connected, both personally and professionally, after CiPP? Phoebe Atkinson—a CiPP1 grad, then teaching assistant (TA), and now TA mentor—is a perfect example.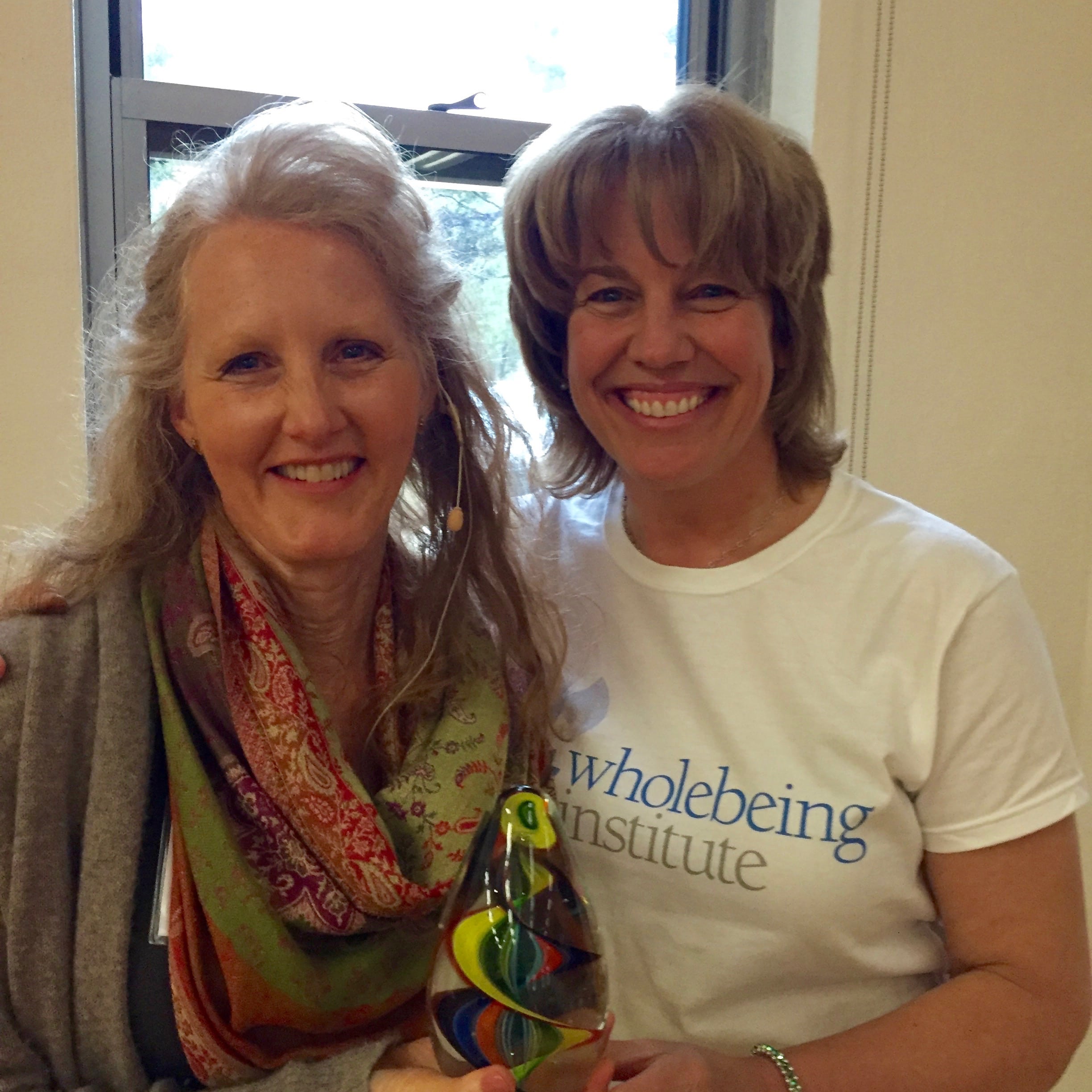 At this year's Embodied Positive Psychology Summit, Wholebeing Institute CEO Megan McDonough presented Phoebe with the Community Connector Award. Megan took notice of Phoebe's love of helping people. "Phoebe started molding and evolving the community practice. There was an amazing level of mentorship and connection," says Megan.
This award is one that Megan plans to present annually to key individuals who go over and above their role to strengthen connections. She says, "Connecting a community is a key aspect of CiPP. We want to have like-minded individuals networking with one another." Megan has made cultivating connections a priority at Wholebeing Institute. "As an organization, a 2016 priority is to understand how we can further support connections within our growing community."
The TA mentor is responsible for supporting the teaching assistants so they can, in turn, support the students. Some of the TA mentor's responsibilities are straightforward—like helping students with logistics of the final project for the course–and some are individually tailored, such as supporting students to identify and engage their strengths to overcome a hurdle or reach towards a goal. "Because Phoebe connects the connectors, the whole course experience is elevated for all," Megan says. "She has a ripple effect of positive change for our whole alumni community."
Phoebe acknowledges that her desire to help people, combined with her work in sociometry, makes her a natural connector. "Wherever I go, I'm looking to bring people together," she says. "I look at people in groups and systems and try to connect them with those who have shared interests." Common interests she's found while helping others include family, coaching, and the desire to continue learning.
Phoebe is a a clinician in private practice in Manhattan. She is also an executive coach at the Institute for Women's Leadership at Rutgers University. "I build group cohesion and find commonalities in my different jobs," says Phoebe. "I love connecting students with each other. Everyone has a great interest and commitment to developing better versions of themselves."
Phoebe's goal is to "create more platforms within the CiPP community." She is using the large alumni network to achieve that. "Five years have shown me that there are so many different ways people use this work," she says. Phoebe's current challenge is to help each individual become visible. "I have a bird's eye view of this community, and I love supporting them in really connecting, through reciprocating and exchanging their resources."
Phoebe Atkinson is the teaching assistant mentor for CiPP United States. She is a licensed clinical social worker (LCSW-R) and a board-certified trainer, educator and practitioner in psychodrama, sociometry and group psychotherapy (TEP). She is a practicing therapist in New York City and a graduate of the inaugural CiPP1 program. Phoebe's areas of expertise include design and facilitation of clinical and corporate training programs, and she enjoys both the co-creation and collaboration. As a certified coach, Phoebe delivers executive leadership programs in Fortune 500 companies and, for the past 13 years, has co-facilitated a signature program that resides at Rutgers University Institute for Women's Leadership.