This is the home base for CiPP alumni. For easy access, consider bookmarking this page or using the alumni tab above to find everything you'll need to stay engaged and connected to your community.
Extended learning
Graduates from CiPP can choose to have lifetime access to the course videos as well as revised content when it is updated for a one-time fee. To purchase the extended learning,
click here
. If you've already registered, you can enter the extended learning via the "My Courses" tab above.
Alumni Map
This is a free service open to all CiPP graduates designed to help you more easily connect with each other based on geography or speciality. It also helps you promote your work in the world. We consistently get requests, and
this is the page
we will send people to in order to hire CiPP graduates. Feel free to promote your work here. What would you like potential customers and fellow alumni to know? Simply click the "add button" in the upper right corner of the map on
this page
and fill out your information. Yes, you can add your photo, videos, and other details. Your link will be added within 3-5 business days after submission.
Click here
for screenshots and more instructions to guide you.
Display your Badge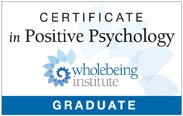 As a CiPP graduate, you can proudly display this icon on your marketing material. Just right click the icon to "save as" onto your computer. If you place the badge on the web, please link to the
CiPP Program
page.
Join the 30-Day Practice
Each and every day, get short videos, concrete actions, and inspiring stories or quotes—a blueprint for daily action in order to embed positive habits.
Join here.
Continue Learning
Deepen your knowledge by registering for courses that specifically apply CiPP tools as a practitioner, such as the
Positive Psychology Coaching
course with Lynda Wallace,
The Resilient Quest (When Life Strikes Hard)
with Maria Sirois, and
Teaching for Transformation
also with Maria Sirois. For a full list of courses,
click here
.
Become a Facilitator
Check out what happened at this year's Embodied Positive Psychology Summit. Sign up for access to the 2017 slides, handouts, and additional resources.


Connect through Social Media
Connect with CiPP alumni by interacting on
the Facebook group.
Connect with WBI on
Facebook
,
LinkedIn
, and
Twitter
.
Write a blog post
We love to post articles written by our alumni. Here are the
guidelines for submission
.
Start CiPP again!
Endings are really just beginnings in disguise. Take the newly revised
Module 1
, getting reacquainted with familiar topics in an updated format and content.