A Train-the-Trainer Course
Registration is currently closed. Sign up now to be notified when registration opens for the next Learn to Teach course. Please contact us with questions about the course.

Overview
This course is for Certificate in Wholebeing Positive Psychology (CiPP and CiWPP) graduates who want to be licensed to facilitate the Inspire Your Ideal Workshop.
After taking this program, you'll be able to
➤ Facilitate a positive experiential learning environment for the Inspire Your Ideal Workshop, such that you can effectively deliver the key concepts, content, and exercises independently
➤ Give yourself permission to teach by bringing your best self forward—engaging strengths, identifying vulnerabilities and barriers, and learning to transform even the most anxious moments into gold
➤ Model wholebeing as a presenter—enlivening SPIRE for yourself, while you learn to hold the classroom as a whole
➤ Live the Wholebeing Institute values in the role of a licensed trainer for the Inspire Your Ideal Workshop.
Prerequisite: To become a licensed WBI trainer, you must be a graduate of the Certificate in Positive Psychology.
How it Works
When you come to the program, you'll receive the Wholebeing Happiness Facilitator Guide. This ​binder is a complete "workshop in a box," which includes
➤ PowerPoint presentation with bulleted scripts associated with each slide
➤ Guidelines and tips for planning, organizing, and executing a successful learning experience
➤ Easy-to-follow participant worksheets for your students, so they can take away a tangible reference guide and action plan
➤ Supplemental material to help you market the workshop
➤ USB flashdrive with an electronic copy of all materials used in facilitating and marketing the course, which you can print as needed, as well as customize with your own contact information and logo.
Bottom line: You get the power of the Wholebeing Institute brand directly supporting your work.
Serving Your Audience
We have coaches, consultants, therapists, and many, many other roles represented in our CiPP community—and graduates in every profession are welcome to become licensed trainers for the Wholebeing Happiness Workshop. In other words, you don't have to run a training organization to become a licensee. As you think about how you serve your audience, the "workshop in a box" can help you develop a new line of service or deepen your existing offerings.
So you can understand the connection between teaching the workshop and your professional role, here are the four key concepts covered in the eight- to 10-hour workshop that you'll be trained to facilitate:
1. Learn and practice the SPIRE approach to expand the capacity for and perspective of wholebeing
2. Experience the power of storytelling and re-storying to understand and practice living from a strengths-based perspective
3. Develop and cultivate key aspects of the ideal self, exploring how that vision can enrich daily actions and simplify choices
4. Practice focusing attention to experience the power of appreciation, using it to strengthen relationships with self and others.
The format of the Inspire Your Ideal Workshop curriculum is flexible, in order to best serve your audience. You can run a condensed session in one day (eight hours) or spread out the workshop over a number of days. The content is modular, and the Facilitator Guide gives you suggested edits depending on the time allotted—whether you choose to run the program in one day, over a weekend, or during an evening and a day.
The Flow
Before the immersion, you'll get access to the PPT slides in the closed classroom so we can review key concepts together during a live webinar. This allows you time to reflect on the personal stories you want to tell as a facilitator, and the vision you have for yourself as a presenter.
At the immersion, you'll experience the material as a student and then shift roles to practice as facilitator.
After the immersion, we'll continue online, fine-tuning the material.
Your Voice
The Facilitator Guide and the associated slides include placeholders for your stories. As the presenter, your voice is critical. Rather than a script to read from, you'll receive both space and structure.
Structure includes the framework, such as the slides with key points and group exercises.
Space is about telling your own relevant stories—how the content relates to your own life—through examples, real-life experiences, and applications in action. We will work together to shape these personal stories during our time in the immersion. You'll gain comfort, skill, and flexibility in choosing, shaping, and offering your story, through practice both at the immersion and as a presenter back home.
Location
The immersion will be held in Hartford, Connecticut, at the Town & County Club. Located in Hartford's residential Asylum Hill neighborhood, the Town and County Club is housed in an 1895 mansion, with parlors, library, dining room, art gallery, and ballroom.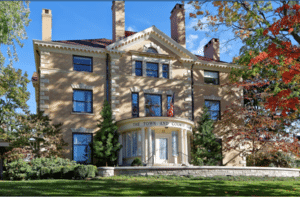 Investment
$995 USD (tuition is $495 and licensing is $500). This includes the Inspire Your Ideal workshop, the Wholebeing Happiness Facilitator Guide, and access to a "trainers only" area on the Wholebeing Institute website. This is the place where we archive updates to the Facilitator Guide so you can keep your work up to date. It's also the place where WBI trainers share best practices and stay connected through community webinars. The license also includes a listing on the WBI site as an approved trainer for the Inspire Your Ideal Workshop.
With the license, you can run the program as often as you like. You set your own fees with your students, and you keep all the revenue. There is no per-student charge that goes back to WBI.
After year one, the license is renewed annually for a $199 lump sum, or spread over the year for $20 per month.
Frequently Asked Questions
I already have what I need to create my own workshop. Why should I become a licensed trainer?
Serving the work forward is key. If creating your own content works, that's great! It's time-consuming to create programming from scratch, so having a ready-made "workshop in a box" is a viable way to extend your offerings, alongside your other courses. And you'll get the extra brand recognition of WBI to help leverage your work.
How is this different from Teaching for Transformation?
The online Teaching for Transformation course is about taking any program, such as one you developed, and deepening your voice as a presenter. Learn to Teach the Inspire Your Ideal Workshop offers training and licensing to teach a specific course developed by WBI. The main objective is to give you the content and flow—a "workshop in a box"—so you can go out and present the Inspire Your Ideal Workshop. It's appropriate to take both courses (although not required), as there is minimal overlap.
Will there be a limited number of licenses awarded?
The license is non-exclusive. This is consistent with WBI values. We share, trust the team, and collaborate, rather than protect and isolate. With that vision in mind, wouldn't it be great to team up with other licensed CiPPsters to do a joint workshop?
If I do team up with another CiPPster to teach, do both of us need a license?
Yes. Anyone who teaches the content needs to meet the requirements, which include the 5-day training and the licensing fee. Your license does not cover another person. In other words, we each have to do our own work even when we work as a team.
Will WBI provide videos and training materials for the workshop I teach?
There are a few videos within the PowerPoint slides designed to reinforce concepts. They're short and sweet, supporting the points you make from the front of the room. When we have the opportunity to be face to face, there are other, more powerful ways to bring the learning home.
Do I need PowerPoint?
Yes, you need to have Powerpoint on your computer, so you can use the slides when teaching the class.
Do I set the price for the workshop I teach?
Yes, you decide how much to charge for facilitating the workshop.
Can anyone purchase the license?
No, you need to be a graduate of CiPP in order to purchase a license and take the training.
Is the Inspire Your Ideal Workshop the same as WBI's Module 1 online course?
The workshop is not the same as the Module 1 online content. They are complementary, not duplicate. However, we are thinking about ways that you could offer the WBI online course to your students, creating your own mini blended-learning course. That's for down the road!
When will this program be offered again?
Learn to Teach the Inspire Your Ideal is offered annually. Please refer to the course overview page for updates.
For those looking to deepen their presentation skills, consider the Teaching for Transformation course taught by Maria Sirois.
What if I haven't taken CiPP? Can I still take the course and teach a workshop?
No, you need to be a CiPP graduate, or currently enrolled in CiWPP (special permission is needed from faculty to take both programs simultaneously).
Can I take the course and pay for the license later?
No, the license and the course go hand in hand.