Now open!
Register Now to experience a Whole-Person Approach to Positive Psychology and Optimal Well-Being.
This 9-month online and on-site course offers an in-depth, integrated exploration of the science and direct application of positive psychology—the study of individual and societal flourishing—in all aspects and stages of life.
Apply the whole-person approach personally and professionally in leadership, counseling, coaching, parenting, or teaching in order to
➤ Bring about lasting change in individuals and organizations
➤ Create healthy personal and professional relationships
➤ Build positive emotions and the resilience to deal with painful ones
➤ Develop self-regard and grounded optimism.
Graduates leave with the tools, practices, and research to support an increased capacity for health, strengthened resilience, deeper mindfulness, and greater levels of overall well-being.
View the full course syllabus.
Overview
For coaches, leaders, teachers, health professionals, social workers, psychologists, and anyone who wants to make tomorrow a little bit better than today.
➤ There are two sessions to choose from in 2019.
● Session A runs February 4 to September 21, 2019.
● Session B runs September 9, 2019 to April 25, 2020.
➤ The curriculum consists of nine modules, including seven online modules and two onsite immersions.
➤ Immersions are each five days in length, starting on Tuesday evening and continuing for four full days, Wednesday through Saturday.
➤ Immersions are held in Hartford, Connecticut, at the Town & County Club. Session A immersions are March 12–16 and September 17–21, 2019. Session B immersions are October 15–19, 2019, and April 21–25, 2020.
➤ The online lessons combine prerecorded video lectures, live question-and-answer sessions via video webinars with rotating faculty, special guest webinars focusing on the practice of positive psychology, reading assignments, forum discussions, homework, and small-group work.
➤ Module 1: Introduction to Wholebeing Happiness is immediately available upon registration, providing a self-directed foundation before the entire student body begins together with Module 2.
About
Bertrand Russell wrote, "The happiness that is genuinely satisfying is accompanied by the fullest exercise of our faculties and the fullest realization of the world in which we live." This cultivation of our own potential is critical in order to realize it.
In this course, we study and apply the evidence-based research in positive psychology to cultivate self-leadership—the ability to pilot our life towards the good.
You wouldn't fly a 747 without training. And our minds are much more complicated than a jet engine. Engaging your head, heart, and hands in a way that positively impacts your life takes practice. Just as a pilot constantly moves between practice flights and the real thing, we can use our life to apply the science of human flourishing, gaining valuable skills to fly higher and happier at work, at home, and in life.
Alongside advances in positive psychology, great strides are being made in neurobiology—understanding how we can work constructively with our own minds, rewiring our brains in healthier ways. Studies on mindfulness are exploding as scientists explore and then teach us how to focus and use the power of attention. There's a new field called "positive organizational scholarship" that helps create the conditions within organizations that allow people to flourish. Taking these tools and practicing them in community, as we do in the Certificate in Wholebeing Positive Psychology, is a powerful elixir for positive change.
A Whole-Body Experience
The course extends the dimensions of positive psychology with a rare whole-person approach. Rather than a cognitive-only perspective on the science of well-being, students follow the SPIRE methodology.

Team Teaching
You have a teaching team supporting your learning experience, integrating expert advice in an organized and methodical way.
You connect with lead faculty in weekly video lectures, and that content is expanded through interviews with guest faculty. We also invite guest lecturers to join us for the live webinars. Between in-person immersions, live webinars, and recorded lectures and interviews, you're exposed to many voices and perspectives within a consistent and cohesive learning experience.
About the Immersions
Town & County Club in Hartford, Connecticut
Both immersions will be held in Hartford, Connecticut, at the Town & County Club. Located in Hartford's residential Asylum Hill neighborhood, the Town and County Club is a private retreat to converse, connect, celebrate, savor, and rest. The storied 1895 mansion, with parlors, library, dining room, art gallery, and ballroom, is an elegant and flexible event space. You'll have assignments both inside and outside the classroom, exploring SPIRE elements to increase wholebeing. These include: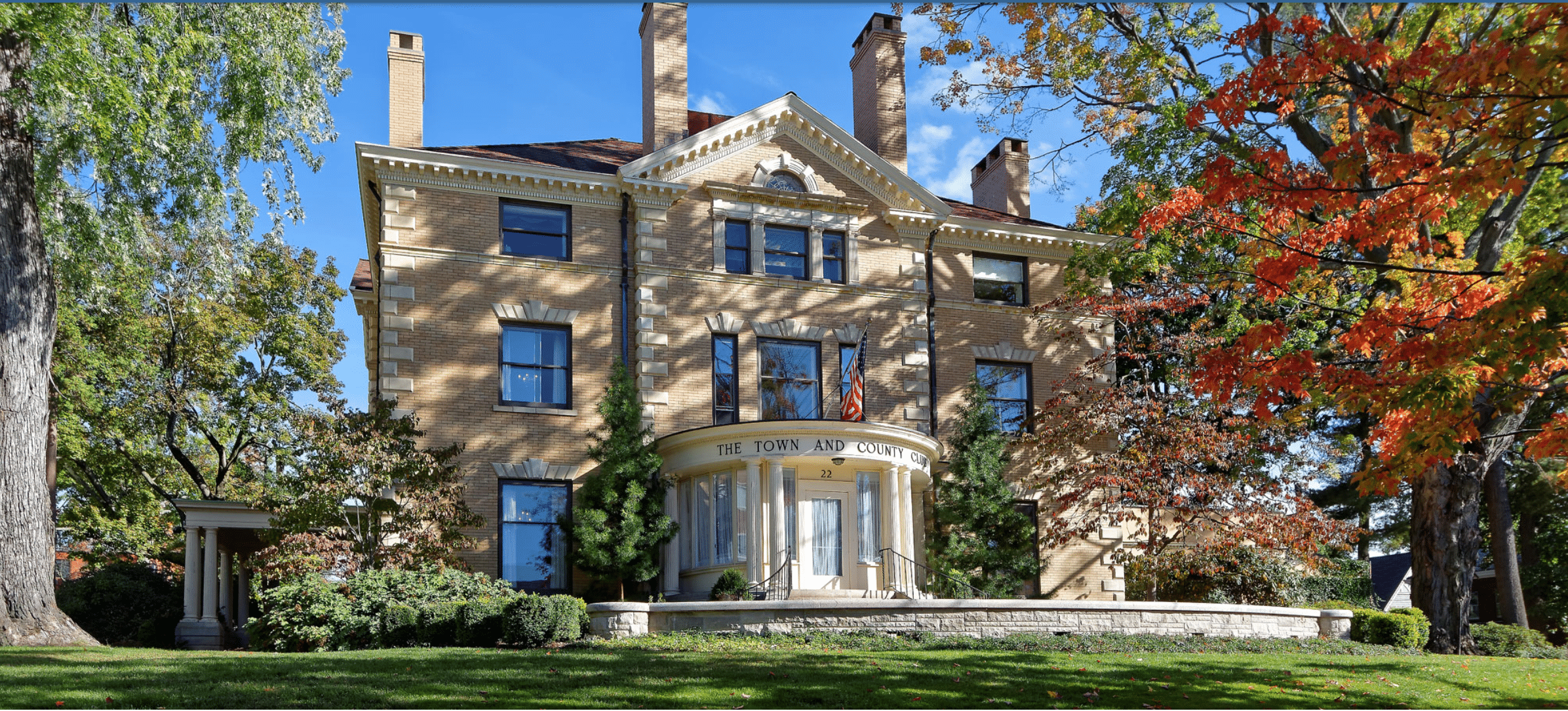 Spiritual: Visiting the Harriet Beecher Stowe Center to explore how a mother found time for activism by making a social statement with her book Uncle Tom's Cabin—creating meaning for herself and many others involved in the Underground Railroad.
Physical: Exploring the fun of arial yoga, the joy of Let Your Yoga Dance, or the gentle rest of yoga nidra.
Intellectual: Visiting the Mark Twain House to reflect how a writer used imagination and reflection to craft creativity.
Relational: Connecting with others and the outdoors by visiting Elizabeth Park, America's oldest public rose garden.
Emotional: Using gratitude and appreciation of beauty during all of the above excursions, and practicing positivity boosters during our training to elevate and engage an upward spiral of well-being.
Housing reservations are separate, with plenty of local accommodations available at variable rates.
View the full course syllabus.