When I think of journaling, I think back to grade school, when I kept a little red diary of my activities, thoughts, and desires. Sometimes I wrote in pen, sometimes in pencil and, on occasion, in a colorful crayon. In a way, it was my early attempt at storytelling and an animated collection of my own stories. The journal was mine and mine alone!   
Over the years, I journaled from time to time, but not with any true consistency. But then life took an unexpected turn. I lost my mom to leukemia when I was 19, and before I even knew how—or had the chance—to ask her so many questions. 
When I had children of my own—Sara, now 27, and Megan, 26—journaling took on a whole new meaning. There were so many unanswered questions that I wanted to ask my mom about my childhood, about what I was like as a toddler, a teenager. Was I funny or cranky most of the time? What were my ambitions? And what were her thoughts about being a mom to me and my two brothers?
When Sara arrived on the scene, I committed to capturing her stories for as long as I could and followed with the same commitment to Megan, with an end goal of a 21st birthday surprise for each of them—the story of their lives, captured in photos and handwritten letters narrated by me. I wanted to ensure that they had all of their stories and milestones recorded and that they understood my pride, joy, and so many other emotions that came with being their mom. Thus began my role as the Sepulveda Family Chief Storyteller. 
I started by keeping baby books for both girls, but I quickly learned that a one-year collection of firsts—first tooth, first word, first haircut—would not fulfill the need to elaborate on and share their stories, not just in year one, but for the decades to follow. So, side by side with the baby books, I started my own stories: Letters to Sara and the Megan Chronicles. This time, the journals were not intended to be mine, all mine, but rather a collection to one day become the property of my girls—and maybe the generations to come. While I hadn't wanted anyone reading my little red journal, I wanted everyone who was interested to grab some inspiration from "the why" that had inspired me to embark on this new passion project. 
At first, I journaled all the time, and the books started to fill with detailed letters. Sometimes I jotted my thoughts down in just a few minutes. Other times, I spent longer on an entry. I shared my feelings, my observations, our conversations. I captured the firsts, but in greater detail: first visit to the movies (which ended with a quick exit because the thunder in the film was terrifying for little ears); first trips to the beach, where they loved the water and didn't like the sand. I recorded the often funny and sometimes sad days, everything from the annual birthday celebrations and all who gathered to shower the girls with love, to stories of loss—great-grandparents departing and world events, including a detailed account of my personal 9/11 experience and how that day changed all our lives. 
At 47, I was diagnosed with breast cancer. For me, this was a moment to channel pure positivity. Having to share this news with the girls, then 15 and 16, required conversations that I knew they would appreciate more at a later date, and the entry I wrote at that time was one of the most meaningful. Throughout the highs and lows, I began to realize that the journals were not just a gift to my darling girls but to me as well. A place for me to savor our life together, appreciate all the beauty around me, revel in the children's growth, and treasure our family's journey.
Sara and Megan's 21st birthday celebrations marked the final entry in each of their journal collections. Shortly after their birthdays, I gifted each of them four mismatched, mostly handwritten journals. The laughter, the tears, the surprise and delight, the happy time reading them together brought us so much joy. I hope that I have inspired my girls to do something similar for their children, and I am pretty certain they will, in their own way, want to carry on this magnificent job of storytelling.
Family and friends often asked, "How do you find the time? You must have 27 hours in your day. You're making me feel guilty." To be honest, some years I was diligent with entries, and other times a year would pass between journal entries. There is no one way to do this. Each person's commitment is individual, will take on a life of its own, and will manifest in a way that feels fulfilling for them. One thing I know: It's never too late to start. 
 If the mood takes you, give it a try! Here are a few tips to get started:
Keep it fun. If you feel like it's an obligation, you will find yourself dreading the deadline.
Consider all the ways to capture stories: photos, letters, short stories, video.
Sit down to write only when the mood takes you.
Don't be shy about sharing the hard stories alongside the fun and lighter ones.
Pick an end date when you'll gift it to the recipient—the expression on their face will be etched in your memory forever. 
One poignant surprise was how this project gave me a whole new level of love and respect for my mom and all she taught us and shared before her passing. And it gave me fuel to move forward when I was sick. It's been a few years since I've passed the journals on to my girls, and they are now full-on adulting. Lately, I've been wondering if there might be another chapter or two for me to chronicle—perhaps one even more grand than the ones before ….
Watch Lisa on the WBI/JCC Positive Psychology Hour, discussing the power of writing and storytelling.
https://drive.google.com/file/d/1i2ZXYAa70ntedxHO6bxxbapwt3YoM7VI/view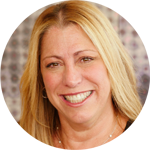 Lisa Sepulveda
Lisa Sepulveda is the Global Chief Client Officer at Edelman, leading the firm's portfolio of global clients, including Samsung, HP Inc., Johnson & Johnson, and PayPal, to ensure delivery of creative, quality client work. Lisa's 30 years of communications and marketing experience include integral roles in the Dove Campaign for Real Beauty and Kellogg's "Open for Breakfast" campaign. Lisa is also a master mentor and was named 2017 Mentor of the Year by She's the First, a nonprofit focused on girls' education in the developing world. She is a graduate of CiWPP and is pursuing Positive Psychology Coaching Certification through Wholebeing Institute. Lisa is the mom of two daughters and lives with her childhood sweetheart in Suffern, New York.