After reading that title, you may be thinking, My goodness. It is March of 2022. Nothing has been at its best for quite some time. Especially my family. (And by the way, "family" in this context can be defined in whatever way resonates with you—family of choice, family of birth, family of creation, etc.)
If something like this comes to mind, you are not alone. The challenges of the past two years are undeniable. Through a lens of loss, struggle, change, and uncertainty, it can be hard to see ourselves and our loved ones at our best. But the payoffs are worth the effort. I invite you to join me in this exploration.
First, let's consider the value of envisioning our family at its best, just as we can envision our own best possible self. Our relationships bring meaning and purpose to our lives. In relationship with others, we experience ourselves as friend, partner, parent, or sibling. We come to know ourselves and the world through our connections—the kindness offered or received, the lessons learned or shared. The wonder that we feel at the smoothness of an infant's skin or the joy we feel in the resonance of an elder's laugh allow us to appreciate, attune to, and remember what connects us. Tuning in to what is good, fun, and resilient within our families, especially in difficult times, helps us reconnect with what already exists.  
Next, we must acknowledge what's hard about envisioning our family at its best. Many of us have lost loved ones. Many of us experience distant or strained relationships with loved ones due to mental illness, differences in personality, philosophical differences, or geography. For a variety of reasons, many of us simply don't feel the connection that we long for in our lives.  
And yet, this practice of envisioning our family at its best is still available to us. Through this practice, we can notice where the goodness resides, build bridges back to those experiences, and take steps towards experiencing more of them.
Our positive psychology toolbox offers many avenues. We can tune into what we appreciate about each member of our family. We can savor experiences we've had together. We can attend to our own whole-person well-being. We can fill in sentence stems such as, "Something valuable about our family is…" And we can offer ourselves and our families permission to be human, in all its complicated messiness.  
As we navigate these times in which some of us have experienced too much time with our loved ones (parents of preschoolers, I'm thinking of you here), and some of us have gotten too little time (parents with grown children and grandchildren living far away, I'm thinking of you), I invite you to pause and try this practice. Envisioning our family at its best opens the door to experiencing more of that "best" in our everyday life with our loved ones.

Join Michelle for a playful and inspiring hour of building a vision of your family at its best, Tuesday, March 29, at 12:00 pm ET, as part of the WBI/JCC Positive Psychology Hour webinar series. Register here.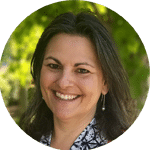 Michelle Brode
Michelle Brode, a graduate of WBI's Certificate in Wholebeing Positive Psychology, is a social worker, certified parent coach, facilitator, collaborator, mom, and artist. She is passionate about strengthening the well-being of youth by supporting and guiding the adults around them. In addition to parent coaching, Michelle consults with schools and youth-serving organizations, and is a National Trainer for the Teen Mental Health First Aid program. She holds a Bachelor's degree in psychology from the University of Michigan and a Master's from Case Western Reserve University's Mandel School of Applied Social Sciences. Michelle is also the creator of Spacious: A Neurographic Coloring Book. Find out more at MichelleBrode.com.