Thanksgiving looks different this year. My family used to have multiple gatherings at different peoples' homes, with loud, laughing, hugging friends and relatives. Now the big table looks rather forlorn, with only my immediate family sitting down for dinner. It's strange. And yet … even in this strange new world, there's plenty to be thankful for.
Research tells us that when we are thankful for the good in our life, the good expands. In difficult times, we can lean on the power of appreciation as a way to connect with and inspire more good in the world.
What are you appreciating most in this strange year? For me, it's the simplicity of that smaller gathering … a deeper, more relaxed conversation with those I love most in the world.
What are you appreciating this Thanksgiving? Where are you finding the good and helping it to grow?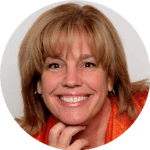 Megan McDonough
As the founder of Wholebeing Institute, Megan McDonough leads with divergent thinking and creative perspectives to build organizations and networks that harness the best in people for the greatest good. She has decades of leadership experience in diverse settings, in roles ranging from Alliance Manager of a $300 million relationship at DuPont; to General Manager of RISE at Kripalu, the largest yoga retreat center in North America; to numerous online-learning startups. A yoga enthusiast, Megan has practiced for more than 20 years and taught for more than a decade, and brings that mindfulness practice to her leadership. Her degree in biology, natural science, and nuclear medicine has little to do with her current work, and everything to do with her radically receptive approach to life. She is the award-winning author of four books on living mindfully.