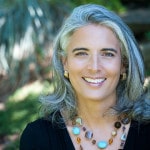 Dr. Maria Sirois is an inspirational speaker, consultant, and licensed clinical psychologist who has worked in the fields of wellness and positive psychology for twenty years.
As a lecturer and motivational speaker, Maria has been invited to keynote at conferences for wellness organizations, businesses, hospitals, hospices, religious, and philanthropic institutions around the country. A master storyteller, her lectures and workshops combine powerful and moving anecdotes with research to bring an audience to the place we all most want to be: moved to tears, joy, and positive action within the lives we are already living. Addressing topics as diverse as "Sustaining Resilience in the Presence of Suffering," "Every Day Counts: Flourishing No Matter What," and "The Heart in Philanthropy," she has been called both a "true teacher" and "an orator of great power and beauty."
Weaving research, story, poetry, and clinical anecdote into an evening of inspiration and wisdom, Maria brings to every audience the messages that awaken us to living a more meaningful life. Below are representative topics for keynote presentations, lectures or workshops.
Topics:
For the General Audience
The Art and Science of Happiness
We live in a time with an abundance of knowledge … knowledge that offers us data and inspiration about the field of happiness and why it matters. In this presentation, we explore the definition of happiness–how to elevate it and how it correlates with success at work, home, community, and in our personal lives. We examine the intersection of happiness and resilience and study the tools and attitudes that enable each of us to increase well-being, optimism, meaning and joy. In doing so, we shape our days towards happiness, bit by bit and through that shaping, we craft a life of richness.
The Resilient Life
The life well-lived is periodically a life of tumult or unexpected strain or loss. Yet the keys exist to unlock the doors of our own resiliency–keys that enable us to strengthen our strengths, direct our energies toward that which is life-sustaining, and create, even in times of great stress, a deeper sense of meaning. Join storyteller, psychologist and author Maria Sirois as she offers insights from the fields of positive psychology, mind/body medicine, and the wisdom traditions to assist each of us to move through life centered in our capacities.
Playing for Keeps – The Good Life
At the end of any one life, we want to be able to say that we played it for keeps. We loved and laughed and offered something to the world that had meaning and that in some way helped to repair it. In this workshop, Maria explores how we create a balance of self-care and care of the world, how we build our resilience and our capacity for compassion, and how to keep the bigger pictures in mind in order to create days that are engaged, creative, and purposeful.
The Authentic Voice, The Authentic Life
To live a life that is true requires a deepening capacity to name our truths; to say what must be said. This workshop provides an understanding of the dynamics of authentic speaking: the risks, the rewards, and how one uncovers their true voice. Through these understandings, we come to know what is necessary for us to create a life that is genuine and unique, and a life that continues to bring us the energy that is sustaining.
For Caregivers and Professionals
A Healthy Distance
In this staff training class, Maria discusses the complexities of how to care for our clients and maintain a healthy distance. What it's like to hold on and let go, what it means to have a client sent home to die in one moment and meet a new one the next, how to love professionally, and how to care for our own hearts while our clients' illnesses progress. Stories from therapists, nurses, and physicians (Courtney Davis, Jerome Groopman, Bernie Siegel, Danielle Ofri, Atwul Gwande, Rachel Naomi Remen) who travel the same territory will be offered.
The Swell of Hope and Faith in the Kingdom of the Ill
As Susan Sontag wrote after her diagnosis and treatment for breast cancer, once diagnosed, we are all given dual passports to the kingdom of the well and the kingdom of the ill. As suffering rises and falls for ourselves or those we care for, we travel between these kingdoms, experiencing a concurrent rising and falling and rising again of hope and faith. What is the point of hope? What to believe in? Where does faith rest on any one day? How do hope and faith help in the different phases of illness or recovery? These are questions that resonate deeply for our patients and their families in the time after diagnosis and yet are rarely addressed within the bounds of traditional medical care. Through this work, Maria offers an understanding of the common dynamics that occur for many us: the loss of a particular faith or hope, the longing for belief that accompanies suffering, and the creation of a new way of meaning-making that is sustaining throughout difficult moments.
Vocation: The Meaning of Work
"There are people who put their dreams in a little box and say, 'Yes, I've got dreams, of course I've got dreams.' Then they put the box away and bring it out once in awhile to look in it, and yep, they're still there." – Erma Bombeck
Given one life in our unique form, why not live the one life only we can live? Why not fill it with a work that calls us, that in some way brings our deepest selves to life? Painting a broad picture of the world of work in Afghanistan, Africa, America and in our own small towns, Maria creates an opportunity to remember why we first chose the work we are doing and to re-imagine a work that energizes and potentiates our greatest capacities as a human being.
For Spiritual/Religious Organizations and Groups
Water in the Desert
As grief rises and falls, so too, does our faith. What to believe in? Where does my faith rest today? How can I go on knowing what I now know about the world? These are the questions that resonate in a difficult time. In this workshop, Maria addresses these questions and guides us toward a journey of faith in the very lives we are already living. Through story and clinical anecdotes, she offers an understanding of the loss of a particular faith that occurs for some of us, the longing for faith that accompanies suffering, and the re-creation of a new way of making meaning out of life that sustains us through difficult moments.
How Big Can We Be?
Because we love what is mortal, we are challenged again and again to find a way to live life and love life even after loss. Our children's lives have much to teach us about this, if only we have the courage to look. In this workshop, Maria offers a way to fall in love with life again despite a difficult loss. Presenting the wisdom of those who have lost and loved again, she offers stepping stones across the waves of grief or suffering. Through this work we can all learn just how big we can become–how compassionate, how kind, how joyful, how open-hearted, and how purposeful.
For Philanthropic Organizations and Non-Profits
The Heart of Philanthropy
"Money is like water. Money flows through all our lives, sometimes like a rushing river, and sometimes like a trickle. When it is flowing, it can purify, cleanse, create growth and nourish. We can be flooded with money and drown in its excess or (we can) steward the flow of money into (our) highest commitments." – Lynne Twist, The Soul of Money
How do we bring forth the flow of philanthropy? What helps inspire our donors and volunteers to continue to give, and equally important, enables us to stay engaged in the task of raising funds on behalf of those we serve? Through a discussion of the heart and purpose, we remember why we are engaged in our non-profit work and how to steward that purpose and passion into the world.
The Garden Entrusted You
Antonio Machado asks, "In a voice that resonates through centuries, what have any of us done with the garden entrusted us?" In modern terms, how are we caring for ourselves, for others, for the land we've been given? What have we brought to this earth and what do we wish to leave as our legacy? Together we explore this territory, remembering the thrumming power of altruism, the need for joy in our work, and the possibility of turning any one life into an authentic, unique life that offers repair to this world.
Speaking Engagements Include:
Canyon Ranch, Lenox, MA
Boston Children's Hospital, Boston, MA
CURE Childhood Cancer, Atlanta, GA
Dana-Farber Cancer Institute, Boston, MA
The Esalen Institute, Big Sur, CA
George Washington University Hospital, Washington, D.C.
Georgia State Hospice Nurses Assoc., Atlanta, GA
Hadassah National Convention, Manhattan, NY
Hole in the Wall Gang Camp, Ashford, CT
Hollyhock, Cortes Island, British Columbia
Hospice of the Valley, Phoenix, AZ
Jeff Gordon Children's Hospital, Concord, NC
Jewish Book Council, Washington, D.C.
Kripalu Center for Yoga & Health, Lenox, MA
Omega Institute, Rhinebeck, NY
The Rabbinic Assembly, Cambridge, MA
Young President's Organization
"Maria is beyond fabulous. Our colleague Harold Kushner has put his approbation on the back of her book; his haskamah does not come easily. You will not find a person that will better have holy tears flowing in your congregation than Maria." – Rabbi David Greenspoon, Assistant Rabbi Director of Congregational Programming, Beth El Congregation
For more information, contact us.