Alumni Spotlight
"I am a writer." Karissa Thacker read that "ideal self" statement from her notebook every day after graduating from the Certificate in Positive Psychology course in January 2014.
While it was the convenience of continuing education that led Karissa to CIPP, meditation helped her understand her purpose there. Before becoming a yoga teacher, Karissa studied with a Kripalu instructor, and found tremendous value in the practice. She's also a psychologist who does consulting and coaching, so when she saw that Kripalu was hosting CiPP, she knew it was for her. "The combination of continuing education and the opportunity to be at Kripalu was too perfect to pass up," she says.
Karissa acknowledges that she is a competitive person, and says that being able to stay competitive while helping others move toward their higher selves was an interesting task. "I discovered a disconnect between being successful in business and being authentic," she says. Her CiPP experience helped her bridge that gap. "I came to work with a higher-quality connection and deeper, more substantive relationships," she says. "I was a more authentic person on all dimensions, and that was inviting to those I worked with."
That led Karissa to investigate the idea of authenticity and how to relay it to audiences on a larger scale. "I wanted to show others that you really can be authentic and successful at the same time," she says. Her ideal self statement helped her manifest a forum for communication: her book, The Art of Authenticity, which investigates authenticity in the digital era, the science behind authenticity, and the difference between telling the truth and speaking the truth.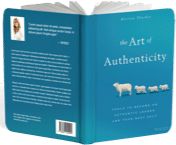 "The book is my gift in helping others make sense of it all," Karissa says. "I wanted to relay the idea that authenticity is a pursuit, not a personality trait."
During the writing process, she rediscovered a calling she'd found early on but lost touch with. At 14, Karissa contributed to a book about her hometown of Springfield, Tennessee. "I remember how fulfilling it was to share and contribute to the knowledge base of my town," she recalls.
Karissa's book was published early this year. Two years of research, writing, and marketing turned "I am a writer" from a handwritten statement to a fact, marked in white ink on a blue cover.
Find out more about the Certificate in Positive Psychology from Karissa at the Embodied Positive Psychology Summit.
Karissa Thacker is a management psychologist who has served as a consultant for 200 Fortune 500 companies, including UPS, Best Buy, and AT&T. Her specialty is executive coaching, with a focus on increased performance combined with increased individual satisfaction at work. Karissa is the founder and president of Strategic Performance Solutions, Inc., a management consulting firm creating innovative solutions in the space of human performance and satisfaction at work. She serves as adjunct faculty for the Lerner School of Business at the University of Delaware.