by Phoebe Atkinson, Syd Hap, and Nicole Stottlemyer
Chris Peterson, writing in his primer on positive psychology, suggests that, since "the good life" is inherently a social one, "why not understand and promote the good life at the level where it exists?" This quote describes a central focus of Wholebeing Institute—namely, that within the various courses (online and in-person), we are offered opportunities to learn and grow in community.
For example, 16 people recently gathered for a meet-up in New York City that the three of us hosted together. Our group was made up of students and alumni of WBI's Certificate in Positive Psychology and Positive Psychology Coaching courses—from Manhattan, New Jersey, Massachusetts, Maryland, Florida, and Long Island.
The idea for these meet-ups grew out of Nicole's final CiPP project, which reflected her passion and devotion to the WBI community. There have been some 40 gatherings since 2013, and those who have attended cite the value of the relationships that are formed and the community that is built.
Resources and encouragement are the fabric of our meet-ups. At one get-together, Caren Osten Gerszberg, a writer and certified Positive Psychology Life Coach, connected with Alan Brown, a high school dean and mindfulness educator—who Caren then profiled in her article "The Future of Education: Mindful Classrooms." "I was so happy to use Alan as a resource, and it was thanks to you that we made that connection," Caren told Nicole. Another example: Two mental-health professionals from different WBI classes met at a meet-up and shared their professional contacts. As a result, they are now a part of each other's referral base.
Meet-ups explore various topics, from creating habits using 30-day practices to (literally) molding your strengths. Organizers give deliberate thought to the design of each meet-up in order to illustrate the different ways in which individuals are applying positive psychology practices. Each gathering includes facilitated warm-ups and group-building activities to reinforce WBI's focus on the intersection of theory and practice, in both the personal and professional realms. Foundational interventions, such as Best Self stories, generate positive emotions, act as a vehicle for connection, and increase the group's upward spiral of positivity. We often use things that our alumni have created, such as Giselle Marzo Segura's Strength Clusters™ Visual Map.
Our recent meet-up explored the theme of "harvesting the good." This metaphor refers to the fall season currently on display in the Northeast, and also captures the intended spirit of all WBI meet-ups. Our gathering place was Syd's art studio in Manhattan's Flatiron district, and she introduced an art experience to help the group elucidate the metaphor of harvesting.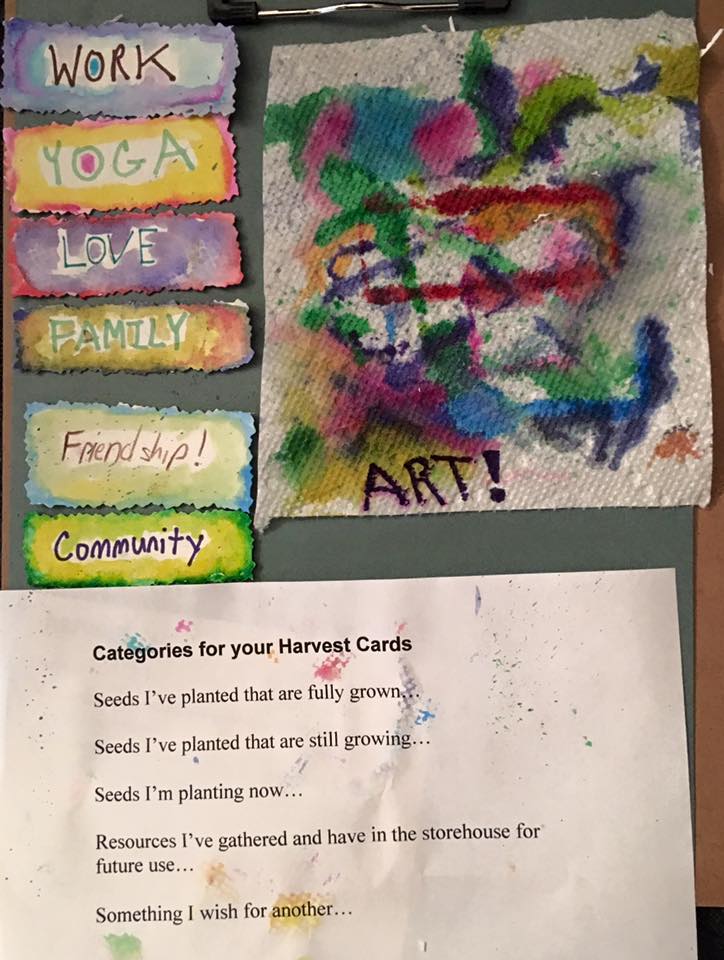 Syd gave each of us a mini cornucopia she had created; our mission was to craft an individual set of "Harvest Cards" to fill it. The suggested card categories were "Seeds I've planted that are fully grown," "Seeds I've planted that are still growing," "Seeds I'm planting now," "Resources I've gathered and have in the storehouse for future use," and "Something I wish for another" (to share with another participant).
With watercolors, oil crayons, colored pencils, Sharpies, and very cool decorative scissors at our disposal, we embarked on our creative adventure. As we filled our cornucopias, Syd explained that making art had allowed us to concretize the experiential work we had participated in throughout the day. By giving tangible form to our values, ideals, intentions, and accomplishments, we create personal and powerful visual reminders that prime our environment and boost positivity. David Cooperrider says, "Positive images pull us forward into new possibilities that fuel us with hope and … help us realize we have the power to make things happen."
Nicole facilitated a sharing within small groups and then the full group. It's amazing, one participant mused, that we can arrive as strangers and leave, just three hours later, feeling so connected to one another. Said Wendy, a CiPP alum, "We all grew as a group and individually. You can't bottle this!"
Indeed, our meet-ups create both the conditions and the context for the "good life." Alumni co-create a shared experience, strengthen their social capital, and harvest the richness of our ever-expanding WBI community.
Come harvest with us!
Join our virtual meet-up on Monday, November 20, 7:00­–8:30 pm ET. Virtual meet-ups are scheduled on the third Monday of each month.
Our next in-person meet-up is January 13 from 1:00–4:00 pm ET in Philadelphia, with a New York City gathering planned for spring 2018.
For details, watch for e-mails, check the CiPP Facebook page, or contact Nicole at [email protected]
To find out about Syd's upcoming art-making workshops in her studio, contact her at [email protected] or 917-968-0951.
Nicole Stottlemyer is a coach, facilitator, and senior teaching assistant with Wholebeing Institute, and holds Wholebeing certificates in Positive Psychology and Positive Psychology Coaching. nicoletalks.com

Phoebe Atkinson, LCSW-R, delivers executive leadership programs and co-facilitates an ongoing program at Rutgers University Institute for Women's Leadership. She is a licensed clinical social worker (LCSW-R) and a board-certified trainer, educator, and practitioner in psychodrama, sociometry, and group psychotherapy.

Syd Hap, CiPP4, is a celebrated doll sculptor and mixed-media artist. She has a master's degree in Art Therapy and for more than 25 years has facilitated art-making workshops and classes for adults and children in her New York City studio. She also offers workshops in Woodstock, New York.