As we prepare to begin another sequence of Wholebeing Institute's Positive Psychology Coaching Certification program—now reorganized to make it possible to flow through the entire program, from Fundamentals through the Mentorship, in approximately seven months—it's a natural time to take stock. Inspired by Harvard social psychology researcher and professor Dan Gilbert, we find inspiration and motivation for the future by appreciating how we've evolved and changed along the way. And certainly, as positive psychology practitioners, we can apply the principles we teach to our internal work as an organization, to help us refine and build on what's working, and update our vision for what's next.
Seven years ago, coach instructor Lynda Wallace and WBI co-founder Megan McDonough partnered to launch an innovative, standalone course that gave graduates of WBI's first Certificate in Positive Psychology (CiPP) the tools to apply the science of positive psychology as coaches. Open only to CiPP graduates, it gave them the opportunity to grab onto what had been a personally transformative learning experience and apply that knowledge to helping others in a coaching context.
As Robert Biswas-Diener has said, coaching is the natural home for positive psychology, and it became evident that there was (and is) broad demand for the empowering, research-based tools and approaches in the course. So we opened it up, drawing people from across the country and world from diverse backgrounds. These included individuals and professionals looking to integrate PPC tools into their work and personal lives, as well as seasoned coaches looking to integrate positive psychology into their coach approach.
After a few cycles of what is now called Positive Psychology Coaching Fundamentals, we added the Positive Psychology Coaching Skill-Building Intensive, where students expand upon and add to knowledge gained in Fundamentals. This next step in the certification builds in a greater emphasis on in-class coaching demonstrations and peer practice, and students increase their skills and competency through peer-coaching partnerships that aim to work through an entire coaching engagement, using our CHANGE model. A significant benefit of this piece of the program is that, in addition to the deeper dive into materials and coaching practice, each student experiences the benefit of being coached—a prerequisite for becoming a competent coach.
Last year, with the understanding that many students wanted additional practice and support to successfully move from learning and practicing to doing and being, we launched the Mentorship. Through its small size and customized approach, this final piece of the certification allows for greater intimacy and risk-taking, where students themselves are doing the coaching with each other in class and with real clients (outside of class) and participating in faculty-led debriefs. In addition to live student-coaching demonstrations, faculty support mentees as they pull together their resources and backgrounds to develop their own language and identities as coaches.
In order to gain certification, students also take two self-directed courses, Introduction to Wholebeing Happiness, an overview of the key principles from the diverse sciences of optimal human functioning; and Building a Thriving Coaching Practice, which offers a toolkit for setting up your own practice. By the time a coach graduates with a certification from WBI (a process that can take as little as seven months, or as long as a year or two, according to the student's needs), they have access to everything they need to move forward in their work as coaches, whether that is using these skills in an existing role or launching their own business. Faculty and students stay connected through closed social media platforms and our blog, and graduates of the program are invited to be listed on WBI's directory of certified Positive Psychology Coaches.
Of course, for our Mentorship graduates, certification is really just the beginning of another cycle of mastery. As we teach at all levels of certification, effective coaches engage in lifelong learning to stay up to speed on the latest and best research, and we model this at all levels, sharing conferences, webinars, and the work of leading researchers. In the same way, we at WBI keep learning and updating our content, to continue to offer new opportunities to grow; the latest such offering launches this fall: Positive Psychology in Clinical Settings, with Phoebe Atkinson and Anthony Zipple.
Whether you join us for one piece of the certification or dive into the whole journey, know that when you join us you become part of our community. We hope to see you this fall!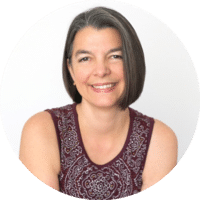 Jennifer Hanawald is a core faculty member of WBI's Positive Psychology Coaching Certification program. She is a health coach who helps her clients to live their healthiest and best lives. She holds National Board certification as a Health and Wellness Coach, Duke University certification as an Integrative Health Coach, and a Certificate in Positive Psychology from WBI.
Jennifer is the TA for the Positive Psychology Coaching Fundamentals course. Along with Phoebe Atkinson, Jennifer also teaches the online Positive Psychology: Skill-Building Intensive course and leads the Positive Psychology Coaching Mentorship.