by Elaine O'Brien
At a professional fitness conference in the 1980s, I attended a talk by Ken Dychtwald, PhD, author of Age Wave. He warned us that there would soon be a burgeoning wave of people turning 65, and implored the audience to create programs for older people "because THEY would become US." He lit a fire under me, and this became my life's work, my meaningful, harmonious passion, a blessing.
I recently addressed the audience at the American Psychological Association (APA)'s Positive Aging: Health and Well-Being Symposium, along with three distinguished professors. I spoke about my PhD study participants, ages 58 to 83, and about applying positive psychology and positive rhythmic movement in a community aerobic dance/fitness program, FitDance, over time. All the study participants attended one-hour classes at least twice weekly for five years or more. These women are vibrant exemplars of positive aging and inspiring role models of wholebeing.
With assistance from researcher Erica Tibbets, PhD, of Smith College, and with input from the their children, we determined that all our participants demonstrated high levels of self-determination, well-being, motivation, enjoyment, and adherence to FitDance. All the women had attended school prior to 1972, when Title IX, a comprehensive federal law, was enacted to prohibit discrimination on the basis of sex in any federally funded education activity. None of them were exposed to sports in school. Now, however, all were active, fit, and lively. They were "older" but not "old."
In fact, in class one morning, a student (one of four women named Mary in the group) talked about hating the word "old." Mary is a lively Irish step dancer; to me, she is not old—in fact, she appears almost ageless. Another student, Nikki, posted a story on Facebook about hearing a man tell his son, "Watch out, don't hit the old lady." Nikki looked around to see who he was referring to, and realized he was talking about her! He couldn't have known that Nikki is part of a dance troupe called the Calendar Girls and, not too long ago, danced on an Atlantic City stage with Val from "Dancing with the Stars."
During that APA presentation, I had a spirited discussion with a dear colleague, Ellen Cole, PhD, coauthor with Jane Giddan of the book 70Candles! Women Thriving in their 8th Decade. When I described a student, Marie, as "older," she corrected me, saying that Marie was "old." Marie, known as "Mom Marie" to our class, started attending my program at age 89 and continued until she was 101! A former "Rosie the Riveter" during World War II, she radiated joy, zest, and love. A mover and shaker, she transitioned from dancing to chair dancing as she progressed in age.
For her 100th birthday, Mom Marie's daughter, "Baby Marie," held an intimate cocktail and dinner party for her, attended by her colorful, lively older friends. One woman in her 80s, Evelyn, who had served in the Royal Air Force, was shamelessly flirting with my husband, Sean. At one point, after a couple of martinis, Evelyn poked Sean in the arm and asked, "Am I BORING you?" She was bawdy and free-spirited—not reminiscent of my own grandmother's behavior in her 80s.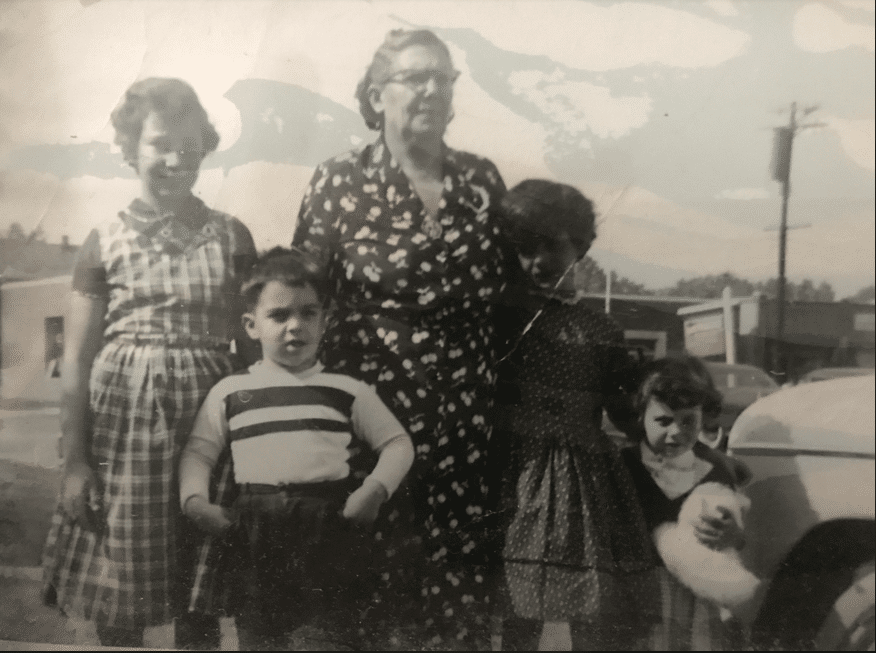 My grandma, Nunni, was beloved. (That's her in the photo with her grandchildren, including me at the far right.) She had the gift of making every person feel special. Family and friends of all ages flocked to her modest kitchen for tea, coffee, or a glass or wine or anisette. Married at age 14, Nunni stayed in Italy while her husband, my grandfather, immigrated to America. He worked as a shoemaker, was able to save money and buy a house, and sent for my grandmother after 10 years. She bravely crossed the Atlantic with her small children, my Aunt Marie and Uncle Pasquale, in tow.
Nunni never learned to drive, and lived a simple, contented life as a homemaker. I received lots of care and comfort from her as a child. But my darling Nunni always seemed old to me. It was probably because I was a kid, but it might have been her "house dresses"—the smocks she wore—and the way she carried herself. She never exercised or moved very much, except to walk across the street to get a fresh live chicken, milk, or postage stamps. I revered my Nunni, and even joined the Older Women's League at 23, because I felt that older people—especially older women—needed to be recognized, elevated, and respected in society.
As we age, there are both gradual and seismic shifts. The losses of people we love are the toughest to bear. When her daughter predeceased her, Mom Marie became "old," and died shortly thereafter. Prior to that, there was youthfulness in her despite her years. I respectfully disagree with my cherished friend Ellen. Being old is relative. Just because we have a certain number of years behind us does not necessarily make us old.
I like how the French view aging. They say, "J'ai 65 années," for example: "I have 65 years," versus, in English, "I am 65 years old." We may have the years, but does that make us old?

Elaine O'Brien and Lisa Honig Buksbaum offer the workshop "Move2Love, Thriving, and Soaring," focusing on how appreciative movement can transform lives, at WBI's Embodied Positive Psychology Summit at Kripalu, May 1–4, 2017.
Elaine O'Brien, PhD, MAPP, CAPP, is a forerunner in the fields of applied positive psychology, Whole Fitness, and positive aging. An internationally acclaimed speaker and author, Elaine has presented at the 2016 American Psychological Association Conference, in Denver, Colorado; the first China Positive Psychology Conference in Beijing; and the Canada and European Positive Psychology Conferences. Elaine is creative director and CEO of Lifestyle Medicine Coaching and Training, LLC, a consultancy, and FitDance: Move2Love training and presentations for whole health and optimal performance. Her doctorate in Kinesiology: Psychology of Human Movement and her Masters of Applied Positive Psychology, from the University of Pennsylvania, align with her background, early vision, and dedication to promoting positive public health, well-being, and social justice for the greater good.