by Nicole Stottlemyer
At our last CiPP Tour meetup, in New York City, our theme was "Using strengths to make bigger ripples." Twenty of us from every cohort of CiPP thus far (including Australia!) fit cozily into Syd Hap's Manhattan art studio.
Our focus was on strengths and how they can help us make a bigger positive impact. In keeping with CiPP tradition, we made it a whole-body experience marked by connection, fun, and experiential learning!
First, we introduced ourselves to each other, made new friends, and expanded our tribe by meeting people in different graduating classes. We talked about the positive effects CiPP has had in our lives and in lives we've touched, like our friends, co-workers, kids, etc. (the bigger ripples).
Then we played with the beautiful strengths cards created by Fiona Trembath, a graduate of the Australian CiPP class. I fell in love with these cards a couple of years ago when I saw the impact they made on my nephew's life (he was six years old at the time) and have since created dozens of games with them for both kids and adults … which led me to fall into the role of Fiona's US distributor. (The cards make great gifts, by the way!)
The game we played in New York is called Strengths Stories. It's super easy, fun, and really powerful. To play, you scatter the cards face up. Then, ask everyone to think about a time when they were at their best, and pick a card that relates to that experience. Then they tell the story. After that, the group "strengths spots" them, by pointing out the other strengths they heard in the story.
This was a great opening act for what came next. The discussion about our strengths segued beautifully into creating clay sculptures, facilitated by our hostess, Syd, who is an art therapist. At our previous New York City meetup, she led a two-inch art project.
This time, Syd showed us how to translate our strengths into sculptures. CiPPster Lisa-Michelle Kucharz put her strengths of bravery, fairness, and perspective into her sculpture. I heart that cape! Superheroes can be so inspiring, especially when we find the one within!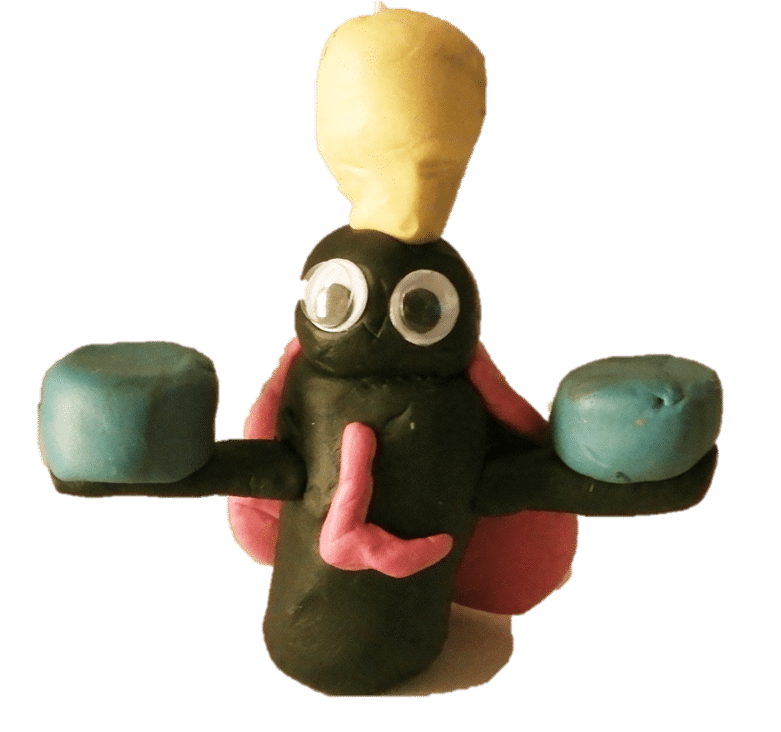 "Focusing on our strengths during the sculpture activity helped me realize I've been more than resilient in the face of trauma," Lisa shared with me. "I've been quite brave, something for which I wasn't giving myself credit. I actually became my own hero. Taking a step back to recognize my strengths during this time had a profound impact on me, and my sculpture is now strategically situated in my bedroom to remind me every morning to start each day knowing that I have the necessary strengths to face anything."
As Lisa points out, and as we know from the science, when we use our strengths, we feel happier and less stressed, manage our problems better, and are better able to accomplish our goals.
Here's what other participants said about their sculpting experience …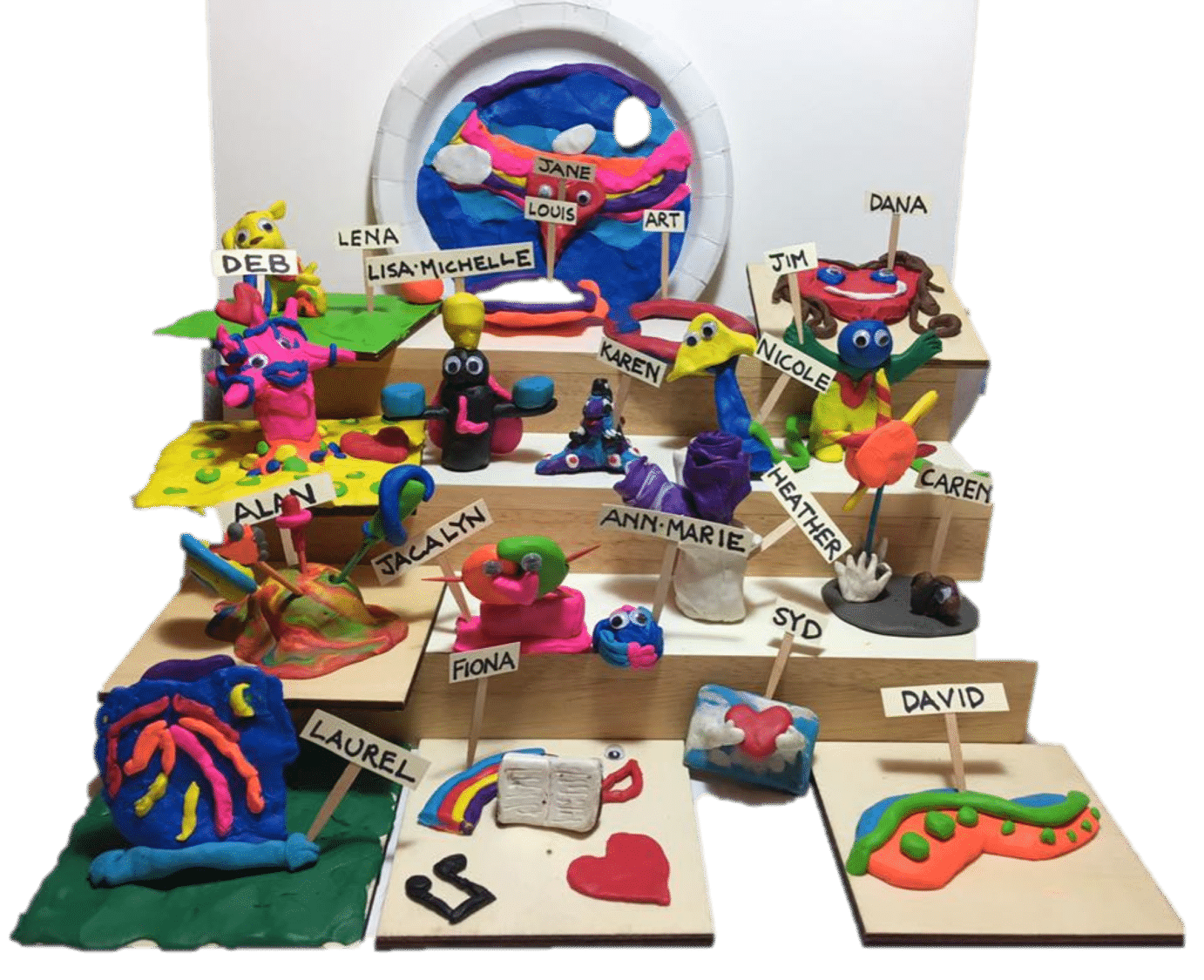 "What I really appreciated about the activity was the opportunity to feel my strengths as a visceral experience. Instead of talking or thinking about them, we had to move outside of language, which was a great way to engage with the felt sense of it."
—Alan Brown
"My sculpture displayed the strength of openness: a small, circular bowl that could take in what the world wants to share with me and allow me to examine it in full awareness."
—Louis Cinquino
"My sculpture was an attempt to depict fireworks! I used it to represent my signature strengths of appreciation of beauty, zest, and love. The fireworks represented energy, zest, and enthusiasm. The colors were symbolic of beauty and how elevating that is. (I always feel awe and wonder at a good fireworks display.) And the night sky represented love."
—Laurel Burns
My final project for CiPP was planning and organizing these meetups, and part of my mission in life is to keep positive psychology students and practitioners connected so we can make bigger ripples. These meetups are positivity boosters, keeping us connected to the best in ourselves and in one another. In doing so, we're more impactful as change agents.
Our next CiPP Meetup is on January 14, 2017, in the Philadelphia area, with an optional sleepover! The theme is "Strengths and Dreams." Contact me for details at [email protected].
I know that not everyone lives close enough to come to a meetup, but as more alumni are taking the lead, the gatherings are starting to spread. You can do it, too! If you've read thus far, I encourage you to think about these three questions:
Who is your inner superhero?
How do your strengths help you create goodness in your life, family, and work?
Then get some clay, invite some friends over, play a game with strengths cards, and start sculpting! Make your own ripples! Then tell us about it on the CiPP Facebook page—or you can write to me directly at [email protected].
To your inner superhero, and to making the biggest ripples ever!
Nicole Stottlemyer is a coach, facilitator, and senior teaching assistant with Wholebeing Institute, and holds Wholebeing certificates in Positive Psychology and Positive Psychology Coaching. nicoletalks.com