2020 will be unforgettable. Not only because of the pandemic that has changed how we take care of ourselves, how we work, and how we spend time with our families and friends, but also because of what we have learned. We came to realize that in the midst of chaos, we have no other option than to face our fears, dust off, get up, and continue being the best we can be, learning to live side by side with uncertainty and sometimes despair.
This year for me has been filled with long working hours, a salary reduction, home schooling between meetings, serving lunch while on calls, and jumping out of bed at midnight because of important deadlines. I won't lie to you, it has been difficult, and I have burst into tears many times. However, I have found peace and joy in spite of all this by fostering what I call attitudes of gratitude. I feel grateful because my family and I are healthy and have everything we need for a good quality of life. Our bonds have grown and we support each other even more. Despite all, we can identify the best we have in us and around us, and use it to overcome any setback.
When I was in my 20s and returned to my native country of Venezuela after five years in Portugal, I was able to quickly find a job in a big corporation. In order to get there before 7:30 am, I had to get up at 4:00 am and take three different buses, and the same on my way back at 5:30 pm. I stopped at a language academy to study English from 7:00 to 9:00 pm, and by the time I got home to eat, shower, and do homework, I was able to go to bed around 11:00 pm. I repeated this every day, and my family and friends told me that I was sacrificing too much, that I was going to get sick because of that job, that it wasn't worth it. However, I saw the situation through "gratitude goggles." Even though it was hard to keep that routine, I was appreciating and valuing the opportunity and career development it represented, and the knowledge and experience I was able to get. I felt so enthusiastic and motivated that being ready at 4:00 am every day felt like a blessing. I stayed in that job for five years and got promoted twice, and thanks to that experience I was able to find my next job with double the salary, allowing me to buy a car and pay for my college. Gratitude helps you become a benefit finder and that makes all the difference in how you experience life.
Among all the interventions and tools I learned while studying positive psychology, I found gratitude to be the most powerful, and it has been my lucky charm for many years. When you are grateful, it means you are acknowledging the good things that happen in your life. This feeling connects you to a larger concept of the world and to a sense of spirituality. Gratitude helps you highlight the blessings in your life despite hardships, and the positive energy that unfolds changes your perception and supports your decision-making, giving you more clarity to see solutions and opportunities, and giving you the energy to take action and move forward. Think about it: When you feel discouraged, sick, or sad, there is little energy in your body. You don't accomplish much because you don't feel like accomplishing much. By contrast, when your mood is elevated, high energy follows, and you become more optimistic and mentally balanced; thus, in a short period of time, you are able to accomplish more.
That's why it is so important to cultivate attitudes of gratitude—and don't wait until things are going perfectly for you. In the midst of imperfection, we find hidden gems of greatness. It's like a video game; when you collect those gems, you gain well-being points that help you savor life and change your experience of the world.
The Attitudes of Gratitude are:
Feeling generally grateful for life, for our relationships, for our well-being
Immediately expressing gratitude to others when we receive a favor
Having a greater tendency to feel positive emotions, which broadens our perception, guiding us to achieve what we set out to do
Often counting our blessings, reflecting on the good qualities of the life we lead
Having better moods, becoming more optimistic and more satisfied with life overall
Accessing humility as we open ourselves to receive other's support and generosity, balancing giving and receiving
Seeing the big picture in moments of adversity, alleviating overwhelming feelings and anxiety
Becoming more emotionally resilient as our gratitude is less dependent on outward events
Becoming more capable of disrupting the chain of associations that keep us obsessing about our problems or failures
Persevering toward goals by staying hopeful and optimistic despite the obstacles
Becoming better able to adapt to change and stay focused under pressure.
Would you like to foster gratitude in your life?
Join me and the JCC Manhattan in a 14-Day Gratitude Challenge that starts today, Wednesday, November 11. By signing up for free here, you will receive daily prompts designed to evoke feelings of gratitude and appreciation, along with a call to action to help you prolong those feelings and benefit your well-being in these challenging times. You'll learn fun ways to fuel your energy with positivity that will expand your perception and help build the resources you need to move forward.
Gratitude opens the door to better relationships, improves physical and mental health, enhances empathy, boosts emotional resilience, and reduces aggression. Don't you think that you deserve these benefits, which ultimately will cascade out in a magical ripple effect to everyone around you?
We will wrap up the challenge on Tuesday, November 24, at 12:00 pm, when I'll speak about Attitudes of Gratitude as part of the JCC's Positive Psychology Lunch and Learn series.
Make every day Thanksgiving Day!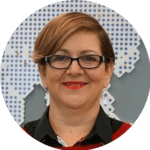 Yaroslav Aristeiguieta
Yaroslav Aristeiguieta, a graduate of WBI's Certificate in Positive Psychology, is the founder of humanlypositive.com, created around her vision of facilitating happiness and a ripple effect of well-being in the community. She holds a master's degree in international business from Regis University, is certified by the Happiness Studies Academy, and has led more than 300 hours of positive psychology group coaching in the corporate environment