Here's your chance to learn more about the 9-month, Certificate in Wholebeing Positive Psychology directly from the leaders of Wholebeing Institute. What is the vision behind CIWPP? Why was it started and what does it mean to us today? Megan McDonough and Maria Sirois discuss the science behind positive psychology and its impact on their careers, as well as why they designed the CIWPP program to include open discussion, peer groups, a blended-learning approach, and team teaching.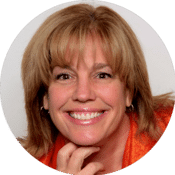 Megan McDonough
As the founder of Wholebeing Institute, Megan McDonough leads with divergent thinking and creative perspectives to build organizations and networks that harness the best in people for the greatest good. She has decades of leadership experience in diverse settings, in roles ranging from Alliance Manager of a $300 million relationship at DuPont; to General Manager of RISE at Kripalu, the largest yoga retreat center in North America; to numerous online-learning startups. A yoga enthusiast, Megan has practiced for more than 20 years and taught for more than a decade, and brings that mindfulness practice to her leadership. Her degree in biology, natural science, and nuclear medicine has little to do with her current work, and everything to do with her radically receptive approach to life. She is the award-winning author of four books on living mindfully.

Maria Sirois
Dr. Maria Sirois is a master teacher, facilitator, and author. She is devoted to the science of well-being and the art of crafting a life and work that embodies health, passion, and success. As a positive psychologist (PsyD) and international consultant, she focuses on the resilience of the human spirit, particularly when under chronic stress, during significant transitions, and/or feeling the shock of wholesale change. Known for her wisdom, authenticity, and rampant humor, Maria brings a depth of experience in personal and leadership development for corporate and nonprofit professionals, as well as community members and those who serve in the health and wellness arenas. For those who seek personal transformation and an increase in meaning, happiness, and health, she brings a wealth of perspective and research from decades of study in the mind/body medicine and resilience disciplines. Her first entree into the territory of wellness was as a volunteer at the then-groundbreaking Benson-Henry Mind/Body Institute in Boston, where she learned to offer mindfulness practice and stress-reduction techniques to those suffering from chronic and acute pain. Her work today integrates this perspective with the tenets of wholeness found in positive psychology. With world thought leader Tal Ben-Shahar and WBI CEO and cofounder Megan McDonough, Maria co-leads a year-long certificate program for executives, educators, entrepreneurs, counselors, and the general public. In addition, Maria is the author of two books, A Short Course in Happiness After Loss (And Other Dark, Difficult Times) and Every Day Counts (Lessons in Love, Faith and Resilience from Children Facing Illness). For more about her work, visit mariasirois.com.