This post is excerpted from "Modern Science, Ancient Wisdom, and A New Theory of Hope," by WBI alum Debra Orenstein, published in Masorti, the New Journal of Conservative Judaism.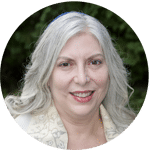 Rabbi Debra Orenstein
Rabbi Debra Orenstein, CiPP, brings the meaning and relevance of the Jewish spiritual tradition to diverse audiences. Named by the Jewish Daily Forward as "one of America's most inspiring rabbis," she has been a keynote speaker at hundreds of venues, including houses of worship, the Chautauqua Institution, and Christian, Jewish, and interfaith conferences. For 20 years, Rabbi Debra taught at the American Jewish University in Los Angeles. Today, she is an instructor at the Academy for Jewish Religion in New York and the spiritual leader of Congregation B'nai Israel in Emerson, New Jersey. Rabbi Debra is the author of eight books, including the Lifecycles series. The main focus of her justice work is ending slavery and promoting freedom. A seventh-generation rabbi, she is also an alumna of the first entering class at the Jewish Theological Seminary Rabbinical School to include women. Visit RabbiDebra.com to learn more and download resources.