In 2012, my life changed drastically, in one instant. It took less than a minute. On my way to work, back from a week off spent with my loved ones, my car slid on black ice and I was hit by a much larger truck. I first thought this would be a good day to die, but rapidly changed my mind as I thought of my 16-month-old boy.
The accident did not kill me but rendered me paraplegic from below the armpits to my toes. I would no longer feel sensations or be able to move any kind of muscle in more than three-quarters of my body. And I now faced the daunting task of learning about this foreign body of mind while still raising, in a much different way than originally imagined, a rambunctious toddler.  
The first couple of years were really hard, but I was stuck in this perpetual motion, unable to stop long enough without having doubts and severely debilitating thoughts of I should have let myself die—everyone would have been better off. I kept going, as stopping would mean being engulfed in the biggest tsunami I had ever faced. I thought I was doing a good job at keeping mental illness at bay, until a huge reorganization at work left me with the feeling that my life was just an accumulation of losses. I could no longer cope. Five years post-accident, everything had come crumbling down, the dam had ruptured, and the tsunami was on its way, leaving total destruction in its path. 
More Than Granola
What came after were a series of diagnoses and years of weekly therapy. YEARS. With some improvement, but never enough that would allow me to handle all necessary roles in my life. Like a clown who juggles, I felt the pressure of keeping all the balls up in the air and failing drastically. I had come to the realization that my life was just meant to be lived with a constant shadow of sadness, dissatisfaction, and despair. 
Until I learned about positive psychology and character strengths.
Positive psychology hadn't yet been widely studied when I did my doctoral work in psychology. And to be fair, when I first heard about it, I wondered whether it wasn't that far off from eating granola and wearing flowers in your hair. How scientific could it really be? But now, the topic intrigued me, and since I have a strong ability to research and learn about new things, I was able to do the work. 
What I found literally transformed my life. 
Tools in Our Toolbox
Character strengths are like our tools in our toolbox. They are available to us whenever we need them. You can use a tool daily or use it occasionally, but it is always available to you. You might be comfortable using some tools, and others you can learn to use more, if you choose to. Sometimes you can even use one tool to make another one more efficient, like using a hammer and a screwdriver to pop open a gallon of paint. 
The more I learned about character strengths, the more the narration of my life's recording changed. I first learned that Love is more than an emotion. It is also a character strength—my top signature strength, as a matter of fact. I also learned the Love of Learning does exist and that this too is a signature strength for me. 
What liberated me from the ongoing suffering was to realize that I had been more than a passive recipient in a dramatic event. I had actually had some control over what happened to me on that fateful day. 
First, Love had saved me, as I thought of my beautiful, blond, curly-haired baby boy waiting for me at my parents' cottage. I had wanted to live to be there for him, so he wouldn't be an orphan. Upon awakening in the car after the accident, and realizing something had gone really wrong, I had shown Curiosity by thoroughly examining what senses and limbs were responsive or not. This had helped me determine that I couldn't feel or move either my legs or my arms. I had used my less frequently activated strength of Spirituality to conjure the strength to ask for my arms back instead of panicking. My strength of Prudence helped stop me from moving around, which could have resulted in further permanent damage. I was Grateful for the first responders and Hopeful that I would be saved and okay to raise my son. 
Pulling Focus
Using a character strengths vocabulary helped me focus on something other than my diagnoses. The focus shifted to what I could do and what made me strong. This was what I desperately needed. It reminded of my ability to be resilient in the face of adversity, as I had done in the past.
Recognizing my character strengths gave me a focus, a new Perspective. I didn't have to reinvent myself, which was a relief. Knowing about my strengths empowered me to take purposeful actions, even if my goals were small at first. 
Self-regulation kept me going, and those tiny steps led me to giant leaps over time.
And when doubts and fears and despair would creep in, I now knew I could always close my eyes and remind myself to be mindful and practice Appreciation of the wind on my face and the warmth of the sun on my skin. Those moments gave me peace, and allowed me to be in a better position to face my fears head on.
Marjorie speaks on how character strengths helped change her narrative in facing adversity on Tuesday, June 28, 12:00–1:00 pm ET, as part of the online WBI/JCC Positive Psychology Hour series. Register here.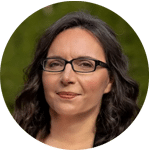 Marjorie Aunos
Marjorie Aunos, PhD, is the 2021 Inspirational Speaker of the Year, author, internationally renowned researcher, psychologist, and adjunct professor at Brock University and Université du Québec à Trois-Rivières She is chair of the Parenting and Parents with Intellectual and Developmental Disabilities Special Interest Group of the International Association for the Scientific Study of Intellectual and Developmental Disabilities (IASSIDD). As a clinical psychologist, she developed the first program offering support for families headed by parents with intellectual disabilities in the province of Quebec, Canada. In 2012, at the peak of her career, she sustained a spinal cord injury in a car accident when her son was 16 months old. The accident and injury gave her an interesting perspective on parenting. Marjorie believes that focusing on our strengths of character can lead to living a fulfilling life. With her family, she learned to be a solution-finder to make her world more accessible. She has co-authored a book on parenting capacity assessment and authored the upcoming book, Mom on Wheels: The Power of Purpose as a Paraplegic Parent. Learn more at ingeniumbooks.com/marjorie-aunos/