by Debra Schuler
Great leaders engage and inspire others by creating the right environment or conditions to draw out the specific behaviors needed to achieve the desired results. To do this requires the ability to tap into an employee's emotions.
There are many different philosophies and methodologies related to the development of effective managers and leaders that for decades have been researched, studied, and packaged into thousands of books and training programs and sold to organizations for billions of dollars.
How can it be then, according to a recent Gallup study, that more than 70 percent of employees are unhappy at work—and at the top of their list of reasons why is their boss? Further, according to a study by the NeuroLeadership Institute, 65 percent of people would prefer a better boss over a raise. Something is clearly not working with how we have been approaching the development of our managers and leaders.
Thankfully, the application of positive psychology and the continuing advances being made in neuroscience are helping organizations move beyond traditional behavior-based management and leadership theory to a more science-based approach, by incorporating the principles and practices of mindfulness into their training programs and culture. Mindfulness and meditation are increasingly earning their place in the performance improvement arena in organizations. Studies are showing that employees, as a result of mindfulness training and practice can increase working memory and perform better under stress; increase self-determination and goal orientation; and improve self-regulation, which reduces stress and improves job satisfaction.
From a leadership perspective, the business case for mindfulness and meditation is that if you are fully present on the job, you will be a more effective leader, you will make better decisions, and you will work better with others. This new generation of leadership theory and practice is spawning numerous books, institutions, and organizational training programs.
---
"The essence of effective leadership is also the essence of charisma. When you are mindful, you are present. When you are present, people notice it. When people experience you as mindful, they then see you as authentic and trustworthy."
—Ellen Langer
---
Authentically leading oneself is a prerequisite to effectively leading others. You can't effectively lead yourself if you do not have high self-awareness and, contrary to common perception, focusing on yourself first is not selfish, it's smart. Most traditional management and leadership-development books and training programs approach improving effectiveness by adding—learning and applying some new or different knowledge or skill. But authentic mindful self leadership is an inside job and is more about removing what is getting in the way. We need to identify and remove interference by:
• Understanding and chipping away at the layers that are obstructing our Core Self
• Taking off the "masks" we wear for ourselves and for others
• Replacing the pressure to be perfect with "permission to be human"
• Focusing more on being versus doing
• Focusing more on feeling versus thinking
• Realizing and believing that "letting go" is not giving up.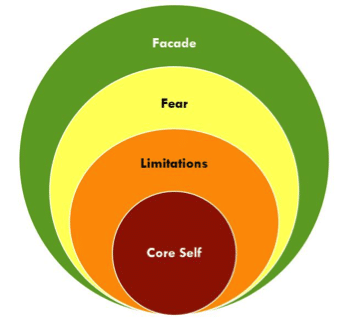 ---
"Don't be afraid to show your vulnerability. Be transparent with your team, even when the truth may be unpopular or inconvenient."
—Bill George, coauthor of Discover Your True North
---
Great leaders are authentic people who know themselves—to their core—and live their truths. They are compassionate with themselves, which naturally leads to being more compassionate with others. The list of well-known organizations that are tapping into the value of compassion in the workplace is rapidly growing, including Google, Target, General Mills, Aetna, Intel, and IBM, to just name a few.
Google, one of the earliest adopters, developed and started offering an internal training program called "Search Inside Yourself" back in 2007. The curriculum is grounded in mindfulness, and the ultimate goal is to help the company's leaders learn how to "pay attention in a particular way on purpose in the present moment" and focus on "being versus doing" in order to bring about calmness, clarity, and self-regulation. This approach, according to Google, helps its leaders become more aware and tuned into their emotions and able to more effectively express themselves and respond to others—with strengthened intuition and better-informed decisions and actions.
Debra Schuler, a CiPP graduate, is founder and owner of ENSO Life by Design, a business dedicated to inspiring others to take bold risks and realize their full potential to achieve success and happiness in their personal and professional lives. Along with her more than 20 years of corporate learning and organizational development experience, she applies evidence-based principles from neuroscience and positive psychology to design and lead empowering workshops and retreats for women, youth and organizations. Debra holds a BS in Management from Rivier University. Find out more at ensolifebydesign.com.