What Great Parents Do: 75 Simple Strategies for Raising Kids Who Thrive
"The next time you find yourself wishing your kids would whine less, listen more, and so on—remember that to change your kids' behavior, you have to start by changing yourself." —Erica Reischer
If you're a parent, you've probably wondered—more than once—how you can be a great one. In What Great Parents Do: 75 Simple Strategies for Raising Kids Who Thrive, psychologist Erica Reischer finally lets us in on the secret. The strategies she offers are science-based and user-friendly, although remembering to implement them when the kids are whining is not always easy. For example, number 24 is "Great parents 'catch' kids being good (and tell kids specifically what they like)." When we do this, we reinforce the good behavior and make it more likely to happen again tomorrow.
Book Discussion
Who should join? Parents, prospective parents, teachers, grandparents, coaches, family therapists.
Why join? To learn and discuss research-based strategies for great parenting.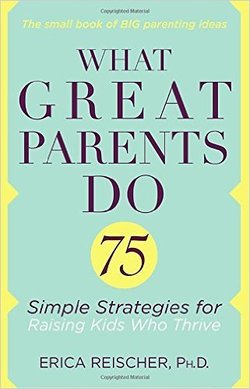 BOOK SUMMARY
(adapted from
Amazon
)
What Great Parents Do concisely presents key strategies to help parents reshape kids' challenging behaviors, create strong family bonds, and guide children toward becoming happy, kind, responsible adults.
In What Great Parents Do, psychologist Erica Reischer draws on research in child development and cognitive science to distill the best information about parenting today into bite-size pieces with real examples, useful tips, and tools and techniques that parents can apply right away. This book will show you how to do what great parents do so well, including:
Starting with empathy
Accepting kids just as they are
Avoiding power struggles
Seeing the goal of discipline as learning, not punishment
Knowing that they aren't perfect.
A toolbox of the most effective parenting strategies, What Great Parents Do is accessible, actionable, and easy to follow.