Nearly two-thirds of people abandon their New Year's resolutions within a month. If you're one of them, you're in good company. There are three primary reasons we give up so soon.
One, your goal is too big. As the saying goes, you can only eat an elephant one bite at a time. So too, with resolutions. To be achievable, they need to be broken down into small steps.
Two, your resolution isn't about you. Another major obstacle we face is making New Year's resolutions that don't reflect what we want. So often, we're influenced by friends, family, and what we see in society. Unless our goals are intrinsically driven, we are unlikely to follow through.
Three, you aren't framing your goals positively. When we resolve to stop wasting money or stop eating junk food, for example, it often backfires because it makes us think about the thing we're trying to avoid. Try framing your ambition in positive language instead. Rather than telling yourself, "Don't eat junk food," think instead about your desired behavior, like "Eat carrots and peanut butter as a healthy snack."
I have a favorite way to plan for the new year that doesn't include making resolutions. Here it is.
1. Visualize your best possible future self.
Find a place where you will be undisturbed for a few minutes. Imagine yourself a year from now where things have gone well. (Not perfectly, there's no such thing.) You've started that company you've been dreaming about, or you've landed that huge client or gotten that dream job. Perhaps you imagine yourself moving to a city where you always dreamed of living. Your relationship and family are happy, and you're living in a home that you love.
Please do not visualize winning the World Series unless you already are a major league baseball player. The point is not to imagine your greatest fantasy but the best possible future attainable in the real world.
Once you pick your future time frame, spend a few moments mentally exploring it. How would you feel? Where would you be? Who would you be with?
2. Spend 10 minutes writing it down.
Now spend 10 minutes writing a description of that future self. Write it in as much detail as you can. Answer questions about your future self and future life, and write about how it feels to have achieved most of your biggest goals. Don't worry about things like grammar and spelling. Unless you decide otherwise, no one is ever going to see this but you.
This exercise helps clarify what you want to achieve in 2022 and inspires you to take action. What next steps will you take today to bring you closer to that future self?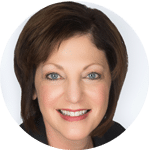 Susan Peppercorn
Susan Peppercorn, CiPP1, is an executive and career coach who enables mid- and senior-level professionals to find their next best career step—whether that's a promotion, new job, career, or entrepreneurial option. A certified Positive Psychology Coach, Susan was a teaching assistant for CiPP2. A frequently quoted expert, she has been tapped for career advice by publications including the "New York Times", "Wall Street Journal", "Fast Company", "U.S. News & World Report", and "Harvard Business Review". Accredited by the International Coaching Federation, Susan is a frequently requested speaker and an executive mentor for Healthcare Business Women's Association. Her free workbook, "25 Tips for Making a Successful Career Transition", is available at positiveworkplacepartners.com.